Stinger® Lubricating Tools User Testimonials
The Stinger System was designed to improve switch productivity and to help ensure the safety of workers responding to outages and other substation issues. The reason we know our lubricating tools work as well as they do is because electric utility professionals across the country have used them and achieved great results, including 50% less damage to equipment and 50% less physical strain needed to open switches.
Read the testimonials below to see how our Stinger tools, when used with our proprietary penetrants and lubricants, have increased the work productivity of our customers.
"We have been putting it to use in a preventative maintenance role, for hotspot mitigation on disconnects & switches in the substations, and in that regard the Stinger has exceeded my expectations."
My colleague and I operated a set of hot disconnects at our substation this morning and I was able to obtain thermographic readings before and after. Attached are 2 images of the 7561 breaker C-phase bus disconnects. The first image was taken prior to mitigation, with the disconnect at approximately 46.3 degrees Celsius (23 degrees above my reference point temp). We transferred load off the breaker and exercised each of the bus and feeder side disconnects 3 times and while they were open,  we treated them with the Stinger 2C Switch & Contact Cleaner. After restoring feeder load to the breaker, I did a thermal scan again found the C-phase bus disconnect temperature had dropped from 46.3C to 26.1C.  Unfortunately, I forgot to capture an image of the disconnect afterwards. Later in the day, when I realized I didn't have the photo, I returned to the station to check the disconnect again. About 4 hours after we did our work, the disconnect was now at 35.9C, which was 2 degrees below my reference point temp. For comparison sake, the outside air temp at the station had gone from 70F at 0845 to about 85F at 1230 when I returned.
- Maryland
5 of 5 stars
Verified Purchase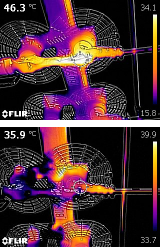 ---
"This is the first time for seeing the Stinger in action today. I was very impressed with tool."
We had a disconnect that was very hard to operate and probably would have led to a corrective Maintenance work order, and the Stinger tool and included switch and contact cleaner prevented an additional work order, equipment outage to overhaul the switch, and the labor cost for a 2 man SOM crew to be dispatched to perform the overhaul. Very impressed with this tool.
- Maryland
5 of 5 stars
Verified Purchase