The Stinger System Can Improve Ergonomics for Electric Utility Companies
According to the National Safety Council,  a workplace injury occurs every seven seconds. Among the top three workplace injury events that resulted in lost workdays, overexertion was first on the list, claiming  33.54% of all injuries. Installation, maintenance and repair jobs were among the top five professions with the largest number of workplace injuries resulting in days away from work.? If you work in the public utility industry, more specifically, the electrical power sector, you might have witnessed or experienced this first-hand.  
Ergonomic or musculoskeletal-related injuries account for nearly  400,000 days-away-from-work incidents. These injuries are quite common for electric utility companies. But they don't have to be a frequent occurrence any longer. The Stinger can not only help reduce equipment damage that often results from trying to force open stuck electrical switches by 50%, but it can also reduce peak muscle exertion by 50%.
---
How the Stinger System Measures Up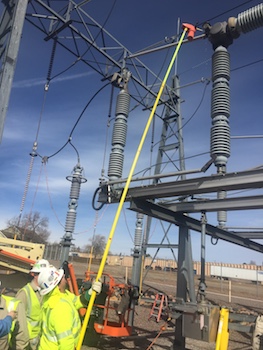 Using state-of-the-art Electromyography (EMG) equipment, an independent utility customer testing organization compared a technician's muscle exertion during the traditional, untreated switch opening process and pretreated switch opening after our 1FR Penetrating Fluid was applied with the Stinger System. EMG sensors were placed on the muscle groups that are often involved in switching operations, like the bicep and rotator cuff. The sensors recorded the muscle response or electrical activity of skeletal muscles and the results of the two methods were compared.
The analysis showed that opening an untreated switch required an average peak exertion of more than 250% Muscle Voluntary Contraction (MVC) for the rotator cuff and more than 160% MVC for the biceps. MVC is the measure of how much muscle contracts without any external stimulus.
By opening switches that have been pretreated with 1FR Penetrating Fluid, reduce peak muscle exertion will be reduced by more than 50% for your workforce. You can help reduce injuries, lost time and productivity and help strengthen your electric utility company's commitment to on-the-job safety. 
Don't just take our word for it. See the Stinger System in action in the video below.
---
Put The Stinger to the Test
If you've been searching for an alternative method for opening stuck electrical switches, The Stinger can meet your needs. To learn more about The Stinger lubricating tool or our fluids, call us at 330.963.2050, or fill out our contact form. We look forward to assisting you.
---